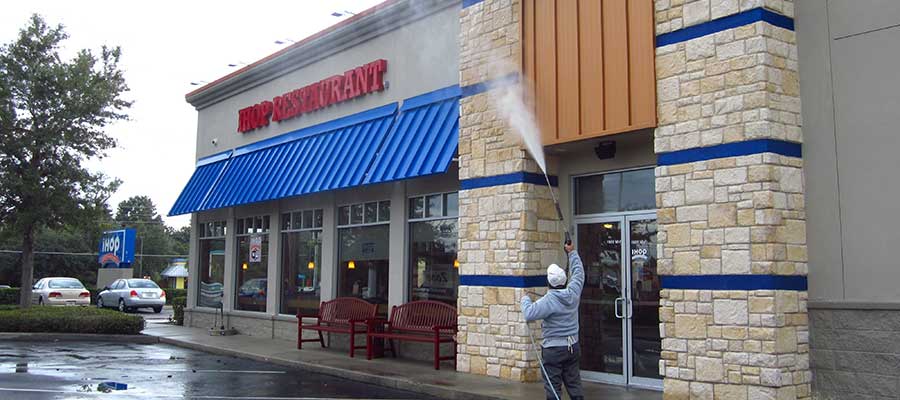 Pressure Washing Service for Signage, Awnings, Sidewalks
Decades ago a small, off the beaten path, a retail store with moldy awnings and a dirty sidewalk would have been called "quaint," now it would be all over the online reviews as "dirty." Times have changed, due mostly because of internet reviews on Google, Yelp, and others where people can leave their opinions on just about everything. Luckily, there are still pressure washers that can pretty much take care of nearly all of the outside cleaning needs of "quaint" bars, restaurants, second-hand stores, and every other "dirty" little shop in town. Here are some good examples of pressure washing signage and awnings plus other "dirty" things.
Small Restaurants Do Struggle To Keep A Clean Outside Table Area
Lots of owners of businesses like restaurants would really like to keep their sidewalk cafe portions clean and nice. But, the pollution settling down everywhere, the chewing gum, and mold all take their toll.
The secret of removing years old chewing gum from the sidewalk is to contract a pressure washing company that has a hot water pressure washer. The gum will come up in just a few minutes. Then, the workers can go ahead and make the entire sidewalk area look like new by pressure washing everything. Concrete is one of those hard surface materials that cleans up and looks a bright light gray color when done. Then, it lasts a good long time before it needs another power washing.
Gum, believe it or not, accumulates over a long time and never gets cleaned up. Some of the those round black spots have been there over 10 years, but they'll come right up with steaming hot pressure washing cleaning.
Awnings Are Another Quick Clean with a Pressure Washer

Awnings tend to get ugly black streaks on them that are a combination of soot, air pollution, and mildew. Pressure washers work amazingly well at cleaning all of that gunk off of awnings. Note that, only experienced professional workers should attempt pressure washing awnings since the pressure needs to be adjusted just right when to not cause damage.
Outside Decks Are A Breeze To Clean With A Power Washer
Wooden decks are hard to clean with a broom or mop because of all the grooves. Plus the wood becomes dirty with oils, grease, stains, and other hard to remove marks. A good deck pressure washing though will be able to completely clean down to the wood. This must be done by a professional that knows exactly the right pressure to use to prevent damage. Then, once the wood has had ample opportunity to dry, it can be treated with a fresh coat or two of wood preservative and stain to protect it in the future.
The concrete, brick, or tiled façade of the shop or restaurant is also a prime candidate for cleaning with a power washer. These hard surfaces get greasy, dirty, and moldy from the rain mixed with air pollution and start to look really nasty. But a good, and regular pressure washing will easily take care of the problem.
If you have a business that needs to be open at your busiest time, take note that a lot of pressure washing companies are perfectly willing to come after hours and do the job. That way everything has a chance to dry before the business opens in the morning again.
No matter what kind of small business you have, whether a second-hand store or a restaurant, pressure washing signage and awnings to decks and antique gum,it can all be cleaned. Ask them about any other hard or moldy surface that you're having trouble with too. You can have them come for an estimate and give them a whole list of problem areas to take a look at.