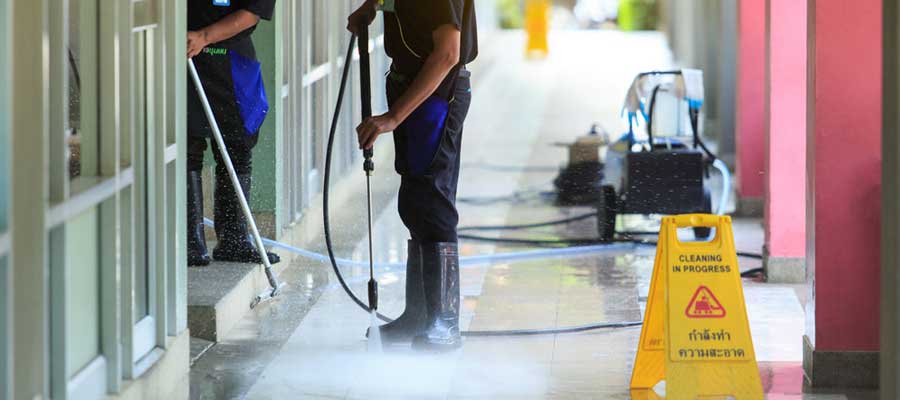 Power Washing for Restaurants, Commercial Patios and Decks
Are you the owner of a restaurant in Pensacola? Perhaps you have a patio and deck that are also part of your business. The appearance of these aspects of your place of business can either draw people in or cause them to leave. Cleanliness is always associated with a fine establishment, and if you have one in Pensacola, Pensacola Beach, Milton, or Gulf Breeze, you need to maintain its appearance. That's why hiring a professional company that does power wash services for outdoor restaurants is an important step to take. Beauchamp Power Washing will be able to help you clean the exterior of your restaurant, patio, and decks for a reasonable cost.
Why Pressure Washing Should Be Done By A Professional Business in Pensacola
It is common for individuals to own a pressure washer. They may also have a power washer which uses water or steam at high temperatures. These can be difficult to use properly, sometimes leading to unwanted damage by lingering too long in one area or another. If your outdoor restaurant is your livelihood, you will want to be very careful when pressure washing your outdoor restaurant. If you do not want to worry about causing unwanted damage, you should contact this power washing service provider.
Why Hire Beauchamp Power Washing Company for your Outdoor Restaurants and Commercial Patios and Decks

Many businesses and restaurant owners have hired this company for their power washing services. They are adept at not only pressure washing the exterior of restaurants but maintaining their patios and decks as well. They provide commercial, industrial, and residential services, using only the best industrial grade pressure washers. The company employs highly skilled individuals that can avoid making common mistakes. If you have spent tens of thousands of dollars on the exterior of your outdoor restaurant, you will want to use this company to make it look its best.
Can They Also Provide Other Pressure Washing Services?
Even if you do not have an outdoor restaurant, you can still take advantage of their many power washing services. They also specialize in cleaning concrete surfaces, easily removing dirt and grime buildup which can happen over time. Some of these additional services will include pressure washing your parking lot where your customers will park their vehicles, and also clean your signage and awnings. If you have downspouts and gutters, delivery truck bays, or if you have a patio outside, they can power wash all of this efficiently. If you do have a restaurant where people can go inside, the foyer and valet areas will also need to be clean. Essentially, any business storefront, walkway, patio, or entryway can benefit from their professional power washing services.
If it is time to clean the exterior of your outdoor restaurant, including your deck and patio, you should contact Beauchamp Power Washing right away. Take advantage of their affordable pressure washing services. If your goal is to improve foot traffic into your outdoor restaurant, consider hiring this company today. They will ensure that your patio, deck, foyer, and entryway into your restaurant will look it's absolute best. Get a free quote today by giving them a call.