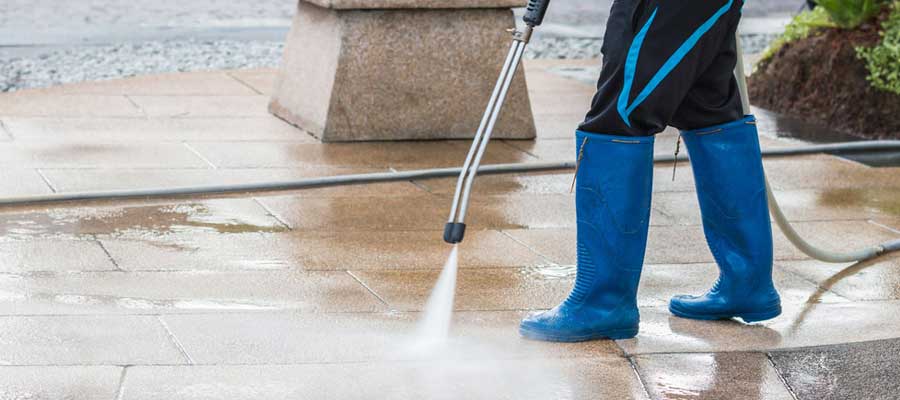 Concrete Pressure Washing Throughout Escambia County FL
When it comes to cleaning concrete, like your driveway, sidewalks, foundation or brickwork, there really is nothing as efficient as pressure washing. Of course, there are a lot of precautions that need to be taken, especially if you have plants near the foundation, or any of your bricks are soft. That's why it's best to leave some things to the professionals that have the experience and know their tools. If the average homeowner rents a pressure washer he'll be ruining things for half a day before he learns what pressure settings are required for each material he wants to clean. Here are some tips on the best things to have pressure washed around your home and why.
Concrete Pressure Washing in Pensacola
When you look at your older driveway you might feel like the only way to make it look good again is to tear it out and replace it. Don't go overboard yet, you can most likely do concrete pressure washing and have it looking almost like brand new.
Older concrete tends to turn black in many places, especially when wet, due to mildew or black mold. Then there are the weeds growing up in the expansion joints, plus the multi-colored lichens and green algae or mosses. It's quite colorful but not exactly what you want for a driveway.
Concrete pressure washing will absolutely clean everything off of the surface and leave a beautiful light gray color as if it were new. It will also clean all of the weeds that are growing out of the cracks or expansion joints and the dirt that is supporting them too. When compared to the prices of replacing a whole driveway or sidewalk it's a great bargain.
You can also have your cement foundation pressure washed. It should respond quite well but some of the paint that is chalking off, or that has salt deposits leaking under it will get blasted off. You should repaint your foundation anyway if that's the case.
Most brick will be able to be pressure washed too, but really old brick probably not. Some old brick is very soft and so is the mortar that's holding it in place. Ask professional pressure washers for their opinion, they'll know just by scratching it with their fingernails.
Wooden Decks Look Great When Pressure Washed
Decks are a great backyard addition because 15 minutes after a good rain you can walk out on your deck and it's almost dry already. It adds space to your home like an extra room. You can have chairs, a barbecue, table with umbrella and even planters with plants on your deck. All you have to do, to keep it looking absolutely perfect, is pressure wash it once per year, then wait until it's dry, and add a coat of wood preservative with a roller. That's it. Wood decks are easy.
Hot Tubs Work Well With Pressure Washing
Most hot tubs have a wooden, either cedar or redwood, outer shell. Then they have an acrylic inner tub with jets, lights, and bubbles. After that, there is an insulating cover with usually a vinyl outside and a Styrofoam core.
The exterior of your hot tub only needs a good pressure washing and then a coat of wood preservative. The inner acrylic tub can also use a strong pressure cleaning, then a special wax/cleaning compound to make it look like new. Finally, the vinyl cover should be carefully pressure washed to remove any dirt, mold, mildew, and debris. That's it, your hot tub is ready for a new season and so is your deck.
Have a pressure washing professional come out once per year and have them do all of your concrete pressure washing like your sidewalks and your driveway. And also have the power washing company do your deck, the foundation of your home, and any brickwork that you might have. Hot tubs, pools, and the decking around the pool are perfect for pressure cleaning too.