Power Washing Cleaning Services In Pensacola Fl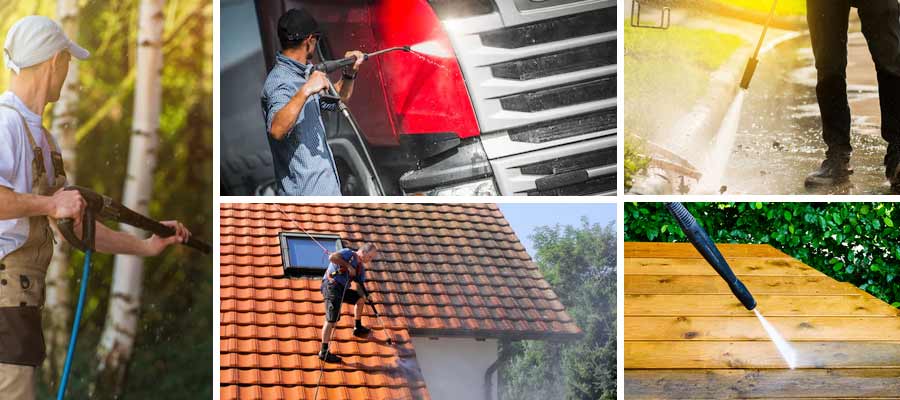 Professional Home Pressure Washing:
Tired of that dull look your home has acquired after a long winter of snow, ice, and rain? It happens. After years of holding up to the elements, eventually, a house can start to look worse from wear and tear. Before you go and buy or rent a pressure washing machine, check out Beauchamp Power Washing's services instead. We can do the work for you and do it efficiently and safely. Lots of people try to do pressure washing themselves. They end up finding out how difficult and cumbersome it is to use a machine. Trying to reach an upper floor window ends up being more than frustrating. It becomes downright dangerous.
Leave the home pressure washing work to us. We have the latest, high-tech machines to deliver the right amount of power washing force to get dirt, grime, and debris off every bit of your home or apartment exterior. Our cleaning crew is experienced and uses Beauchamp Power Washing's own skills for getting each nook and cranny as clean as can be without any danger or harmful chemicals. You will love the results. Give us a call to see how we can help pressure wash your home or apartment and get it looking like new again.
Pool Power Washing:
One of the smartest ways to handle black slime and unknown debris left in your pool is to hire a pool power washing company to come in, clear out all the leaves and debris and then clean the sides and bottom of the empty pool with a pressure washer. Then, if there is a concrete or tile surround, that's also a perfect match for a pool power washing company. Concrete cleans up and looks as good as new.
While you're at it, you might have them power wash your fences and hardscapes. Fences and hardscapes get dirty over time with all the rain and leave that cause stains, mildew, and other problems. A good power wash will clean them as you've never seen it before. There is no better way to clean than having everything power washed. We can do sidewalks, driveways, gutters, pools, pool surrounds, hot tubs, house siding and lots of other things, just ask.
Expert Concrete Pressure Washing:
Cleaning concrete regularly is one way to extend its life and maintain its beauty. More homes and businesses are implementing decorative concrete for patios, outdoor living spaces, pool areas, and walkways. It is essential to clean these surfaces properly every few months. At Beauchamp Power Washing we have the know-how and the machines all ready to go to clean your dirtiest concrete surfaces. Our concrete pressure washing techniques have been perfected over time. Besides, we know how to move these pressure washing machines correctly.
We will get your concrete clean but will not damage any of it or any surfaces nearby. We also will not get hurt in the process because we are experts at handling pressure washers of all kinds. We know exactly how many PSI to use and whether to run the pressure washer on hot or cold water for any concrete, brick, or wood surfaces. You will notice a difference right away with our concrete pressure washing service. Call us today!
Deck Power Washing:
If your deck is starting to look a little haggard, dirty, and covered with debris after the long winter, you might want to consider deck power washing to clean it up. It has to be done by an experienced team because using too high of pressure can carve holes in the wood. A professional can adjust the pressure just right to remove all the mildew, debris, and everything that's loose from your deck. Then all you have to do is waiting until it's very dry and you can re-stain it in just a few hours. It will look as good as new when you're done.
If you haven't had your deck power washed in a while, then you will want to call us at Beauchamp Power Washing so we can professionally remove dirt, mildew, and debris and get your deck looking brand new. Call us for an estimate today.
Roof Pressure Washing:
Roof pressure washing needs to be done by professionals if you want your roof to look great and function as it should. We know how to pressure wash roofs for businesses, residential homes, and any other types of roofs. When you hire Beauchamp to do roof pressure washing, we will always take our time and do a good job for you so that your roof is clean and doesn't have a lot of dirt and other grime building up on the surface of it.
Having an amateur do your roof cleaning could end up damaging your roof and then you'll have to pay to get the issue fixed that they caused. Work with Beauchamp Power Washing and you'll know that your roof will get professional treatment every step of the way. We have the right tools for the job and have the training needed to pressure wash your roof properly. We will get your roof as clean as possible to serve you for a long time.
Commercial and Industrial Buildings:
Are you the owner of an industrial building? Perhaps you have a commercial complex that has not been cleaned in many years. You may adequately clean the inside, but the exterior of the structure may create a very dull appearance. Over the years, dirt and grime can build up, seeping into the cracks and nooks of these surfaces. Whether the exterior of your building is made of concrete or some other material that can easily absorb particles, you will need a company to do your commercial and industrial power washing for you.
If you are in or around Pensacola, you should use Beauchamp Power Washing for all your commercial and industrial buildings. We offer affordable and reliable services, plus we are able to do far more than power wash the exterior of the structures. We can clean sidewalks, parking lots, and even the signage out in front of your business.
Storefronts, Entryways, and Walkways
Make the impact you need to with a bright, clean and presentable business storefront, entryway or walkway. The professional pressure washing services of Beauchamp Power Washing will have your business looking better than ever. Having your storefront, entryway or walkway pressure washed will welcome every customer or visitor with a clean that they will notice, appreciate and take note of.
Besides this, having pressure washed walkways and entryways make your business safer. No one will trip, slip or fall over a pile of leaves, a sticky spill, or something else that you simply do not have time to clean yourself. Let us do that work for you with our pressure washing equipment and our time-tested techniques.
Beauchamp Power Washing uses only the most high-performance equipment. Our cleaning crew gets the work done quickly and precisely so you can have your business storefront cleaned up with the least amount of disruption. Pressure washing gives every surface an extra clean that puts the shine back. Your customers will notice the difference and so will you. Trust our services, our pressure washing techniques, and our experience cleaning crew to give your business storefront a clean that will impress everyone.
Parking Lot Pressure Washing Service:
Get those parking lots looking like new without going through the cost, inconvenience and time involved in repaving it? You can have it sparkling with our expert pressure washing parking lot service. At Beachchamp Power Washing we have developed techniques for power washing all types of parking lot surfaces by using the best equipment. We can power wash any type of parking lot including asphalt, concrete and more.
A simple pressure washing of your parking lot is all it will take for it to look brand new. This makes a great impression on customers, employees, visitors, and colleagues. Call Beauchamp Power Washing today.
Restaurants, Commercial Patios and Decks:
What is the best way to rid your outdoor, commercial patios, decks and eating areas of dust, mud, gum, grime or even spills? Pressure washing is fast, effective and it uses no harsh chemicals. Power washing is a must in the commercial or restaurant industry. The last thing you want customers to put up with is dirty decks, patios or seating areas while they are trying to enjoy a delicious meal with their friends.
Even if your outdoor areas are not visibly dirty or they do not have mildew or mold growing in obvious places, your business could still benefit from a professional power washing. This type of cleaning gets all types of surfaces clean and free of dirt or built up grime. You and your customers will notice the difference right away. Our commercial power washing services are perfect for all business owners whether they lease or own the property. Your outdoor patios, decks, and walkways will be cleaned with high-powered pressure washers by trained cleaning crews. You will notice the difference immediately and so will your customers.
Signage and Awnings:
If you have a sign out in front of your place of business, over the course of years, a substantial amount of dirt can build up on the outside. The same is true for awnings that you are providing for your customers. These are common out in front of restaurants. If you have not cleaned your signs or awnings in many years, they may not look as good as they should. To attract customers, the exterior of your business should look its best. That's why you may want to consider hiring a business that can offer pressure washing signage and awnings services.
Beauchamp Power Washing has been offering these services in and around Pensacola for a number of years. Contact Beauchamp Power Washing today if you would like to use our pressure washing signage and awnings services.
Commercial Gutters and Downspouts:
Your gutters and downspouts should always be clear of any dirt or debris that could cause harm to your property. It is possible that you do not know how to handle a situation where your commercial property has gutters and downspouts that have been clogged by leaves and other debris that may have collected over a period of time. If this is the case, then call us at Beauchamp Power Washing.
We are a company that has the resources and the know how to power wash commercial gutters and downspouts. We promise that our staff knows how to deal with any type of commercial gutters or downspouts and we will ensure that they are as good as new. We can perform this task without causing damage to your property or bothering the neighbors with too much noise.
Our company has been able to power wash commercial gutters and downspouts for a number of clients and we can assure you that we have a great reputation when it comes to dealing with clients. We do exactly what the client wants and ensure that you get the service that you hired us for.
Pressure Wash Roadways and Ramps:
You may have roadways and ramps that lead to your restaurant or store. It is important to maintain their appearance, removing the grime and dirt that can build up over time. This often requires the use of a pressure washer. Beauchamp Power Washing can provide you with a pressure washing service for your roadways and ramps. We utilize state-of-the-art power washers that can get the job done right.