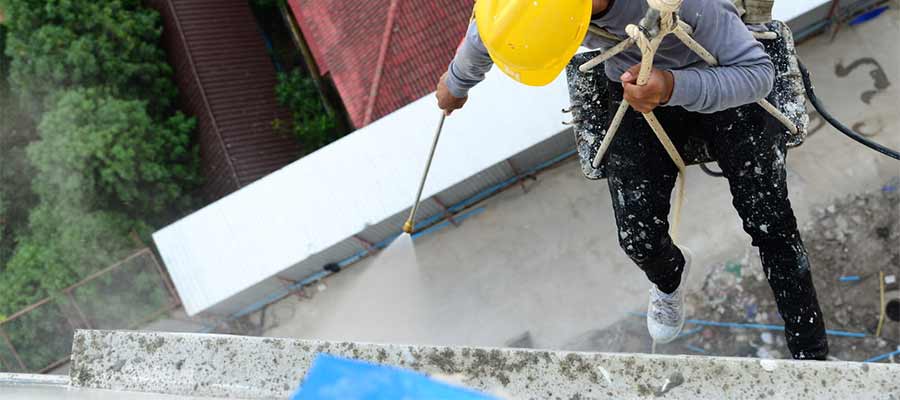 Power Washing Company for Commercial Gutters and Downspouts
There are many commercial businesses that will have a series of gutters and downspouts on the exterior of their building. Whether the building is a single story, or if it is multiple stories, it can be difficult to keep these clean. Not only will the exterior of these items become covered with dirt and grime, but they can also become clogged over time with leaves and branches. If you simply want to clean these items on the outside of your building, you will need to hire a company that can power wash commercial gutters and downspouts for you. Beauchamp Power Washing in Pensacola will be able to do this for you and so much more.
Why You Would Need a Pressure Washer for Commercial Gutters and Downspouts
It is sometimes necessary to use a pressure or power washer to clean your gutters and downspouts. That is because the material inside of them can become extremely dense. If it has not rained, you can easily use a leaf blower to remove this material. However, if it is wet, you will need the phenomenal power of these machines to blast through these conditions. Positioning yourself above the gutters and downspouts is usually the largest problem that the average person faces. They must find a way to get there, and also bring the power washer with them. This is a potentially dangerous task, one that will often require the help of a professional pressure washer for commercial gutters and downspouts.
Why Contact Beauchamp Power Washing in Pensacola

If your business is located in Milton, Pensacola Beach, Gulf Breeze, Navarre or Pensacola, this pressure washing business can provide you with these services. They use the best industrial grade power washers, and they are operated by highly skilled professionals that have done this type of work many times in the past. Not only will they pressure wash your gutters and downspouts, but they can flush them out as well. In addition to this, they can also use these machines to clean virtually any surface on your property for a reasonable cost.
Reasons to Use Beauchamp Power Washing in Pensacola
There are several other reasons that you should consider contacting this power washing company. They have been utilized by businesses with storefronts, walkways, and entryways. If you have signage in front of your business, or awnings to provide shade for your customers, these can also become very dirty over time and need cleaning. If there are roadways or ramps leading to your business, or if you have a parking lot, they can clean these surfaces very easily. From government buildings to industrial complexes, you can't go wrong with the professionals at Beauchamp Power Washing.
If your primary objective is to clean your gutters and downspouts, yet the material inside is wet and dense, a power washer might be your only option. Instead of attempting this type of job on your own, contact Beauchamp Power Washing in Pensacola so that they can do this for you. While they are there, if you have a foyer or valet area, they can clean these as well. In addition to this, they can pressure wash delivery truck bays, and virtually any other area on commercial and industrial complexes, using their state-of-the-art power washing equipment. To get a quote today, give Beauchamp Power Washing a call.