Top Local Pressure Washing Services in Pensacola, Florida
Beauchamp Power Washing Company has been providing expert residential and commercial pressure washing services in Northwest Florida since 2014, and thanks to happy customers, carries 5-star ratings with the Better Business Bureau and Home Advisor, and A ratings on Angie's list.
For "like new" professional pressure cleaning of your property, call us at 850-602-5320 or or connect online to get a free quote today.
Commercial Power Washing
You only get one chance to make a first impression so keeping your business looking its best is one of the most important things that you can do. When it comes to commercial pressure washing services in Pensacola, you can count on Beauchamp Power Washing to get the job done right. With our experience in commercial power washing, we can assure you that your property will never look better.
Residential Pressure Washing
One of the biggest investments one makes in their life is their home. Do you need help in maintaining the appearance of your home? Don't trust amateurs with one of the most valuable assets in your life. Trust Beauchamp Power Washing in Pensacola. With our knowledge, expertise and years of experience, we can assure you that we are the fit for you for all your residential power washing needs. Come see us today!
Concrete Power Washing
Search for a power washing company to clean your driveway or sidewalk?  We are the answer to all of your concrete pressure washing needs. With our knowledge of different surface areas, we know exactly the procedures and preventative measures to take. We use cleaning methods that produce outstanding results without harming the environment or disturbing surrounding properties.
Pensacola Pressure Washing Services
As previously mentioned, Beauchamp Power Washing serves both residential and commercial clients. To be more specific, they are able to power wash a range of property types and surfaces. A few examples of the specific services they offer include:
Concrete– Clean your decorative concrete or concrete surface. It will end up looking brand new.
Windows– Pressure washing can make your windows sparkle. Cleaner windows make for a more appealing building.
Exterior Of A Building– Your house or business's appearance matters. Power washing can clean the entire exterior of your property.
Sidewalks– Keep sidewalks clear of debris. A cleaner sidewalk is a safer sidewalk.
Pools– Before you open your pool for the season, have the surface power washed. This includes the concrete surrounding it and the pool covering.
Parking Lots– Beauchamp can pressure wash entire parking lots. This includes apartment complexes' lots and businesses lots.
Storefronts– Storefronts of all sizes can be powered washed by Beauchamp Power Washing.
Patios & Decking- Decking, patios, and even fencing, as well as any other type of hard-scape,  can be pressure washed by Beauchamp.
Those are only a handful of services they offer. Whether you need only one thing power washed or several, you can rest assured the team at Beauchamp Power Washing has you covered. Simply tell them what you want to be washed, and they will get the job done thoroughly and within a timely manner.
Why Power Washing for your Pensacola Home or Business?
Along with the balmy Gulf Coast weather, in Pensacola, we have high humidity, intense sunlight, and tropical storms, a perfect recipe for the algae, mold, and dirt that collect and grow on our houses. But there's a simple remedy!
Power washing keeps your property beautiful! But more than that, pressure wash methods protect your home exterior from damage by getting rid of the mold, algae, mildew, fungus, and bacteria that lodge in cracks and on roofs and sidings, along with debris and dirt. These organisms grow and dissolve building materials over time, which can cause serious damage. Sometimes you're just plain tired of watching algae and mold taking over your home siding and walkways! As one of the most affordable ways to maintain your property, commercial and residential pressure washing will increase the curb appeal of your home, and the "customer appeal" of your business.
Eco-friendly House Soft Washing | Gulf Coast Pressure Washing
We use the most up-to-date professional cleaning processes, generally a combination of soft wash and pressure wash methods. We use this soft wash combination process for everything except for concrete, where we use heavy-duty power washing with high-pressure hot water and soap.
For a house wash, we use a biodegradable cleaning solution on the exterior surface that not only cleans stains and dirt, but also kills organisms like algae, mold, and bacteria that grow on your home's siding, roof, deck, and walkways. At the same time, these eco-friendly cleaners won't hurt your plants, your pets, or you! This is followed by rinsing with just enough pressure to clean away all the dirt and debris, but not strong enough to damage your home. Our soft wash process can clean your house just as effectively as any high-pressure method, without the damage risks that come with these. We never apply high pressure to non-concrete building structures, which can easily be damaged by a strong water stream.
Florida is the place for year-round barbeques and outdoor living! Let us clean your deck, patio, pool area, and outdoor furniture to have it looking like-new again!
When it comes to your driveway, stone, or concrete structures, we use hot water, soap, and high-pressure power cleaning to work miracles and make dirt, grease, and even chewing gum disappear.
Beauchamp Power Washing's experienced technicians will always work with you to accommodate your individual needs and preferences while transforming and beautifying your home or workplace.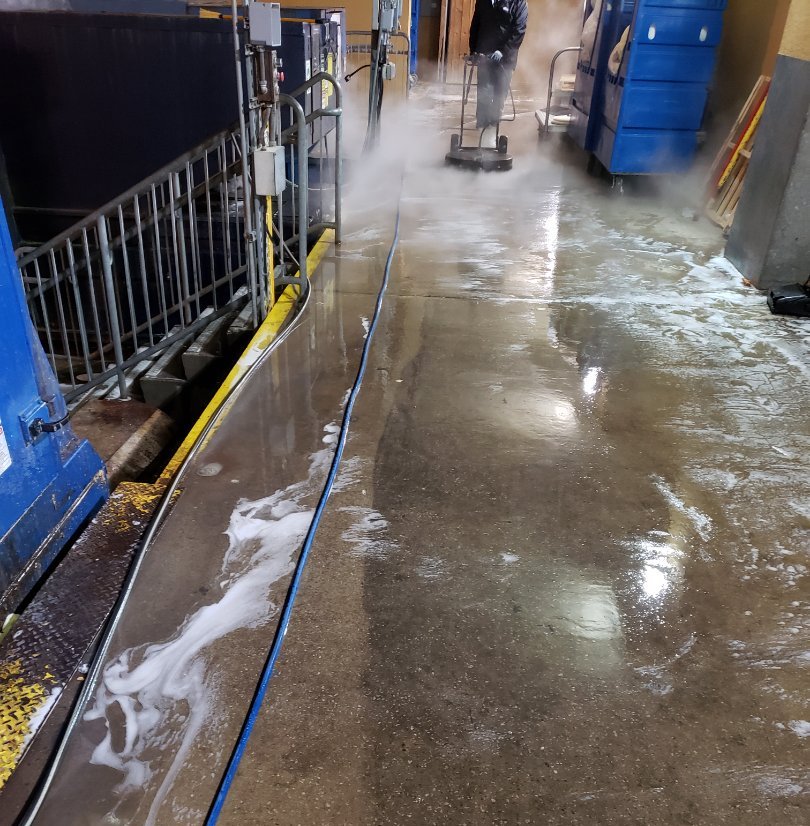 Pressure Washing vs. Soft Washing – Which One is Better?
That really depends on the job and what is being washed. What condition is it in and why is it being cleaned? Do we just want to improve the appearance of our home, deck, or workplace? Or are we priming it for paint or stain afterward?
The humidity levels and local flora of the Gulf Coast mean that if your area has problems with moss, lichen, and algae growth, it's going to come back sooner or later. The question is, "How soon?" We use environmentally safe cleaning solutions that kill these organisms before rinsing them off so they stay away a lot longer than if you had simply pressure-washed the surface, leaving millions of spores behind, ready to grow again.
Best Commerical Pressure Washing in Pensacola | Pro Cleaning
Our experienced techs use powerful commercial-grade equipment to blast away dirt, grime, and pollutants, and get your building looking brand-new again. We also notice your landscaping and more fragile structures and adjust our cleaning methods accordingly.
Outsourcing your power cleaning job to our experienced, well-trained technicians is a smart move and will eliminate the risks of property damage due to the mishandling of chemicals and equipment by less experienced staff. A professional power wash improves building appearance, employee and customer hygiene, and makes building inspections easier. It shows your customers, your neighbors, and your investors that you care.
Coronavirus & Covid-19 | Can Power Washing Services Disinfect?
Whether it's Covid-19 or the flu, prevention is a key task.Beauchamp methods can clean, sanitize, and disinfect the outdoor surfaces of your business or residence, to inhibit the spreading of viruses, and to keep your family and your employees healthy.
Beauchamp Power Washing Company at 850-602-5320. Or connect online for a free estimate.
FAQs on Pressure Washing Services | Pensacola, Florida
What is power washing?
A power wash uses very hot water and soap at high pressure to remove difficult substances like grease, mold, algae, loose paint, dirt, and other materials from concrete and stone outdoor surfaces such as a driveway, pool area, patio, stone wall, or a parking lot.
What are the pros and cons of working with a professional power washing company?
Power cleaning involves specialized equipment that uses very hot water, and can only be used by trained professionals. Pressure wash machines use regular temperature water, but can still be dangerous due to the high force of the water stream, and can cause both personal injury and property damage. Having large exterior jobs done by professionals is not only safer, but also gives you an excellent end result.
What is the difference between power and pressure washing?
Pressure wash uses unheated water at high force and is useful for cleaning hard surfaces with cracks or grooves where dirt can embed. Power wash uses a high-pressure water stream, but with very hot water and soap, along with the machine shown here, that gives a uniform surface cleaning via multiple hot water jets.
What is soft washing
A soft wash uses eco-friendly cleaning solutions, a wider spray, and low-pressure cleaning and rinsing. This method is beneficial for wood panel siding, cedar shake siding, vinyl siding, stucco, wooden patio furniture, screens, and even large outdoor plants, that could be damaged by high-pressure water streams.
Are Beauchamp soft wash chemicals safe?
Our cleansers are 100% biodegradable and safe for people, pets, and plants.
What are the benefits of power washing?
Home ownership is a major investment, and pressure washing is part of good maintenance to preserve and increase the value of your property. Mold and algae can eat away building surfaces, leading to decay and water leaks; dirt and grime can stain your siding if left for too long. Professional exterior cleaning saves you money by getting rid of these problems before they cause more expensive home repairs. Planning to paint? This is the perfect priming method. Professional exterior washing protects health as it disinfects and washes away pollutants, bird droppings and other decaying matter, mildew, mold, algae, pollen, dust, bacteria, and other irritants.
How long does pressure washing a house take?
This job takes from 1 to 4 hours in most situations, not counting the roof, which can 2-5 hours or longer depending on the size and amount of dirt, debris, mold, etc.
How much does pressure washing cost?
Power washing prices vary across the U.S., according to location, the surface to be cleaned, and job size. To throw out some ballpark figures, prices run from 20 to 75 cents per square foot; a home generally costs from $130 to $650 (or more) depending on size, $130 to $220 for a driveway, and $250 to $400 for a deck. Check out Home Advisor for more specifics, or call us, Beauchamps Power Washing Company, at 850-602-5320 for an over-the-phone estimate.
Does power washing increase the value of my property?
According to the National Association of Realtors, "Curb appeal sells 49% of all houses. Professional cleaning of your home's exterior can add between $10,000 to $15,000 to the sale price."
How often should I pressure wash my house?
Once a year is considered the general standard. You may need it more often if you are in a location with excess dirt and mold.
Is it okay to pressure wash soffits and fascia on the roof?
It is generally safe to pressure wash soffits and fascia. However, be aware that roof areas are prone to leakage, thus the water stream should not be too strong to avoid causing damage, while still cleaning away all the dirt and debris. Professionals will generally use a combination of soft wash and lower pressure rinsing for this.
What about DIY power washing my house?
Pressure washers can be rented from home supply stores for those who want to try a DIY job or save money. The question to ask is: "Should I?" Cleaning a house exterior is a big job, and what takes a few hours for an experienced professional team can easily take a week of work for an individual homeowner. Pressure washers can be dangerous and cause harm to people and property if you make a mistake. Soft washing chemicals need to be used in exactly the right dilution.
Why not give yourself a break and call Beauchamp Power Washing Company at 850-620-5320 or connect online. We're fully licensed and insured, and you'll have your job done faster and your property sparkling, without stress or damage risk.